Change Management
Change happens when people change, and we know that this happens one brain at a time. We help people develop their change resilience to maintain their performance and productivity and thrive in change.
We know that up to 80% of change initiatives in business are still unsuccessful today (source – McKinsey & Company) and that we need to be able to develop our ability and agility to navigate continuous change and harness the energy and engagement of ourselves and our people.  Many leaders, however, are often unconsciously creating stressful workplace environments which can limit effective thinking, demotivate people and leave them depleted and disengaged.
We can help by:
working with stakeholders to develop a clear vision of change and understand its implications
identify and address alignment gaps to develop an integrated approach to change management
support managers in building a commitment to change and dealing with resistance
provide training and development to support leaders, managers and employees through the change process
The Neuroscience of Change
Neuroscience is giving us new insights into human behaviour and revealing unseen connections in the living human brain which are showing that not all human behaviours in the workplace work the way we initially thought they did.  This has implications for us as individuals, and for how we lead and influence other people.  
Understanding how the brain works provides leaders with practical information to help them implement change in a brain-friendly way and create workplaces where they, and their people, are able to deal with the challenges of continuous change.
Our Approach is based on recognising 5 key principles:
we are driven by habits which we can change by becoming both aware and intentional

we have limited energy resources and need to manage our focus, attention and energy more effectively

we are attracted to novelty and have limited willpower which we need to use wisely

we are social in nature and need to develop self- awareness and manage our emotions to deal effectively with others

we need to look after our own self-care to provide the best environment for our brain to think, make decisions and deal with stress
When we understand our thinking and behaviour patterns, the power of our habits and the potential for personal change, we can develop our capacity for being BrainSmart in all that we do.
BrainSmart Programs
We have designed a range of programs for leaders and individuals.
BrainSmart Change Leadership®
Leaders need to be able to plan and implement change with an understanding of how the human brain works.  This allows them to minimise any 'Threat' response, focus the power of their team members' Attention and Energy in the right way on the right things and build the organisation's capacity to deal with ongoing Change. In BrainSmart Change Leadership we work with leaders to:
develop their understanding of Change dynamics and the brain

build skills in managing Process, People and Performance

minimise resistance and support people through change
Dealing with Change and Building Resilience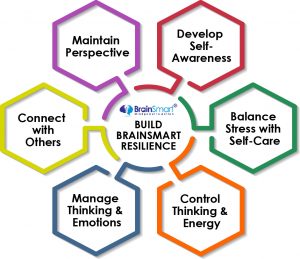 In our experience, the degree, frequency and complexity of change that so many organisations are undergoing today has far exceeded our perceived capacity to deal with it effectively.  In 'Dealing with Change and Building Resilience' we help individuals enhance their ability to navigate change effectively by focusing on:
learning why change can be hard for our brains
developing their self-awareness to understand their change reactions and emotional triggers
applying practical strategies to manage attention, emotional triggers and ensure self-care
providing tools and resources to help people maintain perspective, increase their coping abilities and remain productive
Dealing with Change and Building Resilience
Case Study – Dealing with Change and Building Resilience
We have developed a case study based on our work with a financial services organisation which was experiencing a great deal of change.  You can download a copy here to see the substantial results the participants gained from participating in the program.
Online Development Programme
We have developed a suite of 6 online modules that can be delivered as a standalone in-house facilitated programme, a self-paced learning tool or as a post-workshop development resource. The modules cover:-
The History of Change and our Brains and Change

Understanding Stress

Strategies for reducing Stress

Understanding Change

Strategies for dealing with Change

Building Resilience
Research shows that the brain retains information best when it is presented in smaller chunks over longer periods of time and with built-in opportunities for reflection and practice in-between. Together with a requirement for flexible learning options, this has been the stimulus for us to create an online option delivered in the client's own time. We also provide supporting resources to help individuals build their understanding of Change and Resilience and to apply it to their workplaces and lives in real time.
The insight on how the brain works has helped me plan my day and week better to avoid 'going limbic'! I now plan tasks which require new thinking or concentration for limited periods throughout each day and break them up with routine tasks"